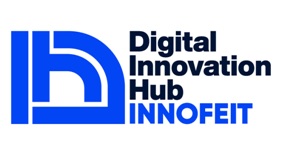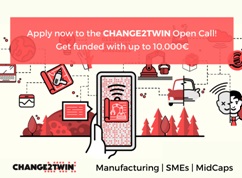 INNOFEIT DIH has been certified within the EU H2020 CHANGE2TWIN project for guiding companies that aim to deploy Digital Twin solutions. The concept of Digital Twin is one of the big game-changers in manufacturing and allows companies to significantly increase their global competitiveness.
Currently, the 2nd Open Call of the CHANGE2TWIN project solicits applications from manufacturers in one of the European Union member states, its Overseas Countries and Territories (OCT) and in H2020 associated countries. Thirty manufacturers will receive an assessment voucher worth up to 10,000 euros that should be used with a certified DIH to provide detailed analysis, implementation roadmap, accurate assessment of digitization potential and forecast improvements achievable with a digital twin.
Manufacturing SMEs from N. Macedonia are eligible to apply and INNOFEIT's experts are at their disposal for preparations. Successful recipients of assessment vouchers will have the chance to compete for a subsequent deployment voucher that provides funding with up to 90,000 euros.
Deadline for application for the 2nd Open Call for assessment vouchers is 30th September 2022 at 17:00 CEST. More details: https://bit.ly/3zx0Hcw