The Proof of Concept for the Western Balkans project announces the launch of the 2021 open call for projects.
The call will open on Monday, January 18, 2021 and remain open until Sunday, February 28, 2021.
Starting January 18, 2021, you will be able to find all necessary information to apply on the EU4TECH PoC website.
You can also register for updates here.
The Launch will be accompanied by an online Zoom Webinar to introduce the call and answer questions.
Register for the Webinar here.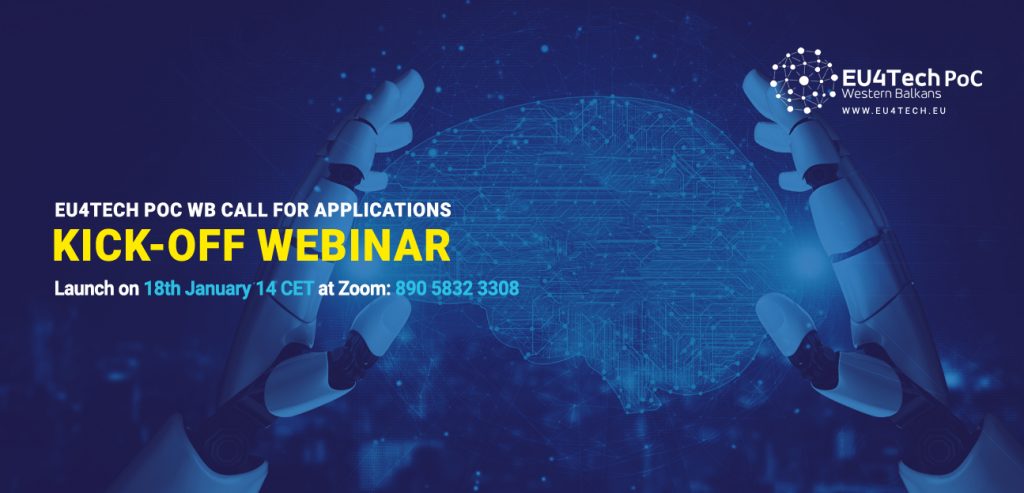 The Draft Agenda for the Launch event is below:
14:00: Introduction to the PoC Project and Key Expert team
14:15: Presentation by the Joint Research Centre of the European Commission – 'PoC in context'
14:30: Outline of the support offered and comment from the 2020 cohort
15:00 Detailed presentation of the PoC call including application and evaluation processes.
15:20: Q&A
15:30 END
Apply to the EU4Tech PoC WB Open Call
for High Quality Specialised Support!The EU4TECH PoC WB project offers specialised support to 40 of the most promising technology-based projects developed within public research organisations and micro,small and medium enterprises from the Western Balkans at the 'Proof of Concept Stage' (Technology Readiness Level 3).We offer you the opportunity to work with high experienced EU and national experts to help you validate and protect your technology, develop a robust business model and take your project towards commercial reality.
Eligible applicants for the 2021 EU4TECH PoC WB Open Call can come from universities, research institutes, SMEs and high-tech start-ups in Albania, Bosnia and Herzegovina, Kosovo*, Montenegro, North Macedonia and Serbia**.You need to apply with a project at the 'Proof of concept' (PoC) stage of development (TRL3) – e.g. realization of a method or idea in order to demonstrate its feasibility, or to verify that a concept or theory has practical potential.*This designation is without prejudice to positions on status, and is in line with UNSCR 1244/99 and the ICJ Opinion on the Kosovo declaration of independence.
**NOTE: Enterprises from Serbia are not eligible for this Open Call and are directed to their own national schemes.Successful candidates will receive highly specialised support services, delivered as a blend of mentoring and workshops:Technology development and prototyping for commercial demonstration.Entrepreneurship support and mentoring.Intellectual property management.Market analysis.Business plan and business model.Follow-on funding support.Support is also available to build demonstrators and seek IP protection.